About the Journal
Teknomekanik is an international journal that publishes peer-reviewed papers in engineering (miscellaneous), energy (miscellaneous) and Chemical engineering (miscellaneous) to the worldwide community. The published papers are mostly the result of collaborative research conducted by researchers from various universities and countries. It aims to promote academic exchange and to increase collaboration among scientists, engineers, and researchers to support Sustainable Development Goals (SDGs).
Name
:
Teknomekanik
ISSN
:
2621-8720 (online), 2621-9980 (print)
Frequency
:
2 issues per year (June and December)
DOI
:
https://doi.org/10.24036/teknomekanik

Organized
:
Department of Mechanical Engineering, Faculty of Engineering, Universitas Negeri Padang
Publisher
:
Universitas Negeri Padang
Country
:
Indonesia
Indexs
:
Scopus and Sinta
Announcements:
To submit manuscripts to the Teknomekanik Journal, please use this template: Manuscripts Teknomekanik template
Teknomekanik publishes 5 to 15 articles per issue. The editorial decisions are on the grounds of suitability for the journal scope, impact and overall quality of the manuscript.
Current Issue
Vol 6 No 2 (2023): Teknomekanik - In progress (December 2023)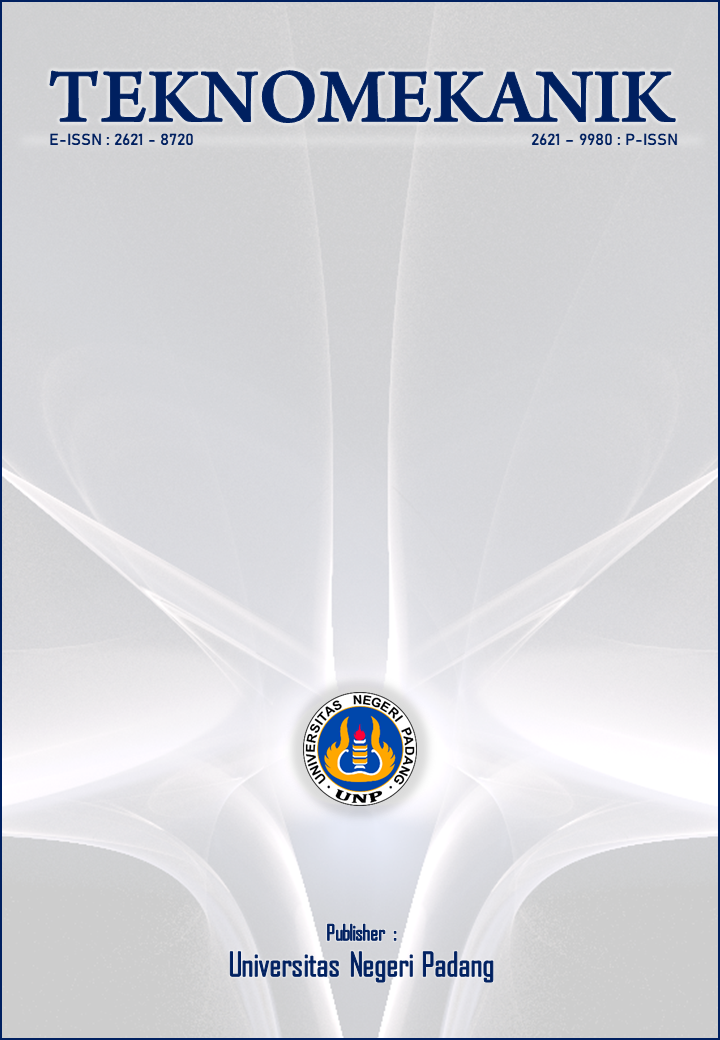 This issue is in progress but contains articles that are final and fully citable.
View All Issues